A Project Completed by the Trust in 2019
A new 3G artificial grass sports surface for all-weather multi-purpose use was laid down in the summer of 2019 on the site of the former tennis courts. The courts had seen very little use for tennis over many years and were becoming inefficient and unprofitable to maintain.
In August 2016 the Colts section of Bookham Football Club approached the Trust to explore the possibility of installing a new 3G surface at the KGV playing fields in order to provide one fixed site on which their 30+ football teams could train regularly in the evenings and at weekends. Following this initiative the Bookham Colts and the Trustees spent much time in discussing the physical requirements of the proposed facility and in applying for grant money towards it.
Grants and donations were obtained from the Aviva Community Fund, the Co-op Local Community Fund, Guildford Borough Council's Community Grant scheme, the London Marathon Charitable Trust and Sport England. Together, these paid for nearly 40% of the project's cost; the remaining funding was provided by Bookham Football Club.
The Colts use the facility in the weekday evenings and for part of the weekends under a formal agreement with the Trust, whilst the facility can be hired outside these times by other parties through arrangement with the KGV Manager.
The new 3G sports surface was opened on Saturday 14th September 2019.
The occasion was used to stage the 3rd annual Bookham Colts walking football tournament, the preparations for which are shown below.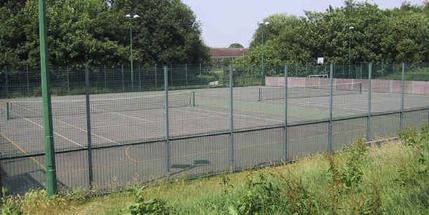 Above – the old tennis courts

Below – the new 3G surface